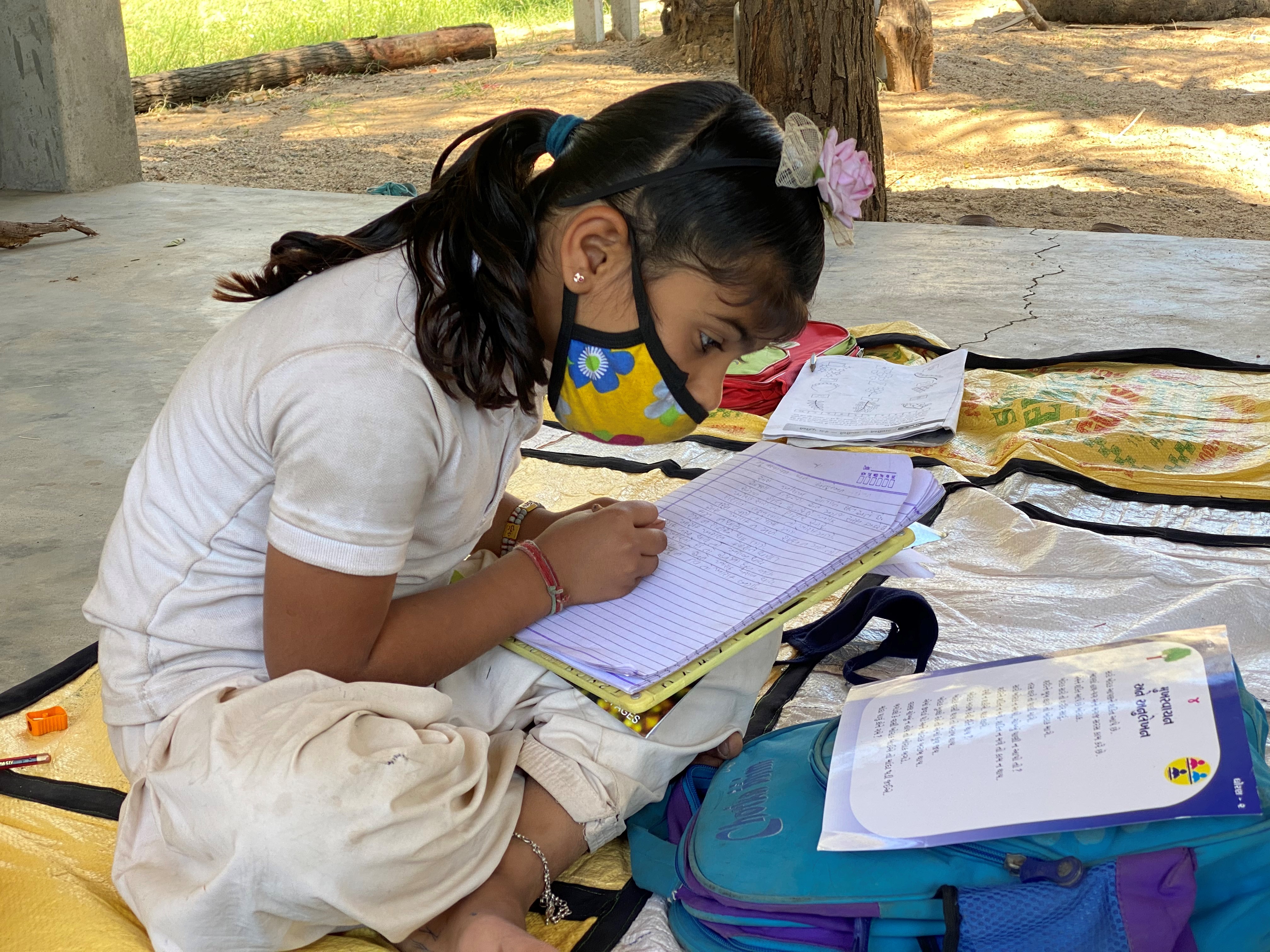 On a wintery morning in Navinal, Bhuj, located in the western Indian state of Gujarat, 8-year-old Sunita wakes up rubbing her eyes. She tells her mother Champa Sathavara that she wants to "go to school", prodding her to telephone her teacher Hasbai Gadhavi. These days, school refers to the makeshift home-visits, under which students of a neighbourhood like Sunita, gather to learn from an Utthan Sahayak like Hasbai on every alternate day of the week.
Hasbai is involved in the Adani Foundation-run Project Utthan as an academic resource for Navinal Primary School, who aids priya vidyarthis (progressive learners) to pursue their studies, even amidst the coronavirus crisis. The project entails adopting government primary schools, tutoring students who are lagging behind academically during the early childhood education, arresting the dropout rates and collaborating to enhance the staff's teaching capabilities.
According to the World Economic Forum, a total of 320 million learners in India have been adversely affected by the pandemic and have transitioned to e-learning. This transition has not been possible for all students, and even educators, due to unequal access to the internet and technology. A recent survey by India's National Statistics Office suggests that only 15% of kids in rural areas have access to the internet, compared to 42% in urban areas.
Tackling injustices in food and health systems is challenging – poor diets and resulting malnutrition are great societal pressures, causing vast health, economic and environmental burdens. Recognizing nutrition as the catalyst that can change the face of India for generations to come, the Adani Foundation has prioritized it. As the corporate social responsibility (CSR) arm of the Adani Group, it has steadfastly pursued the mission of good nutrition to promote holistic community development and reached 5 lakh beneficiaries.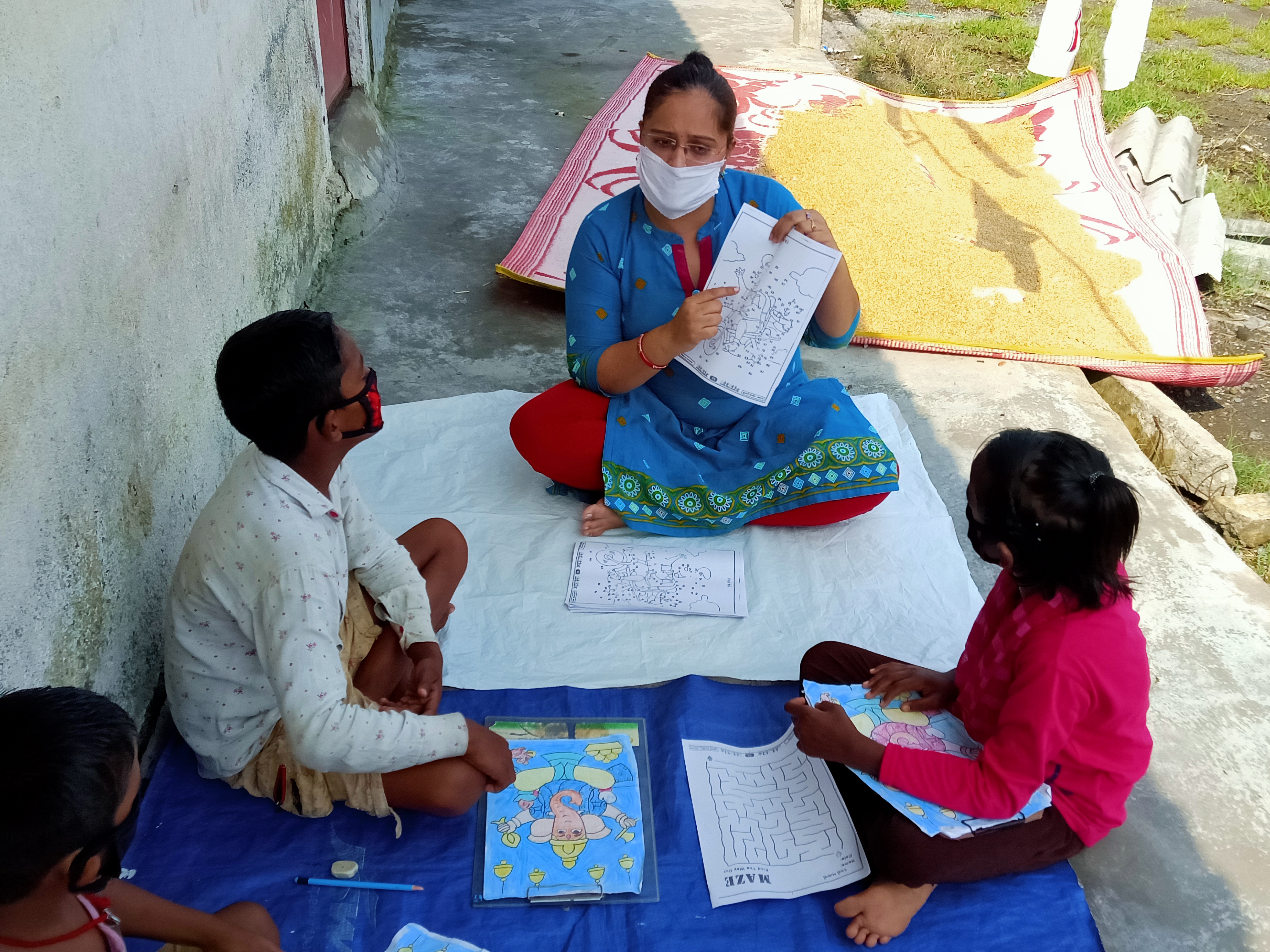 And so, the mission continues, in which 35 Utthan Sahayaks like Hasbai have been visiting the children to teach them, armed with proper precautions. This covers 35 government schools of Mundra, Nakhatrana and Hazira, located across 24 villages in Gujarat. As a result, more than 700 beneficiary students engaged in online classes, before in-person learning became safe and possible. In fact, more than 600 children, who do not belong to schools adopted under Utthan project but live in nearby areas, are also attending these home-based lessons now.
Until July 2020, classes were conducted through whatsapp video calls – the easiest and most-widely available method of reaching students whose family members had a phone to spare. A switch was then made to google meets, and yet the parents felt that the children were close to losing out on the progress made so far, until the home-based learning model came to the rescue.
Let me share another example. This one is from the district of Godda, located at the far end of Jharkhand – a state in east India. In this aspirational district, a different strategy took off. The Gyanodaya project which is being run there by the Foundation in partnership with the district administration and Eckovation Pvt. Ltd., was already delivering digital education to remotest areas of the district in smart classrooms of government schools. It covered 246 govt. schools, reaching more than 50,000 students studying in classes 6th to 12th.
Amidst the COVID-19 crisis, the government decided to air the Gyanodaya syllabus on Doordarshan Jharkhand starting 11th May, 2020, with the potential to benefit more than 50 lakh students across the state. Later, as the lockdown was relaxed, five Gyanodaya Raths were flagged off by the government, equipped with the digital curriculum which would reach small groups of students in the district who did not have access to smart devices.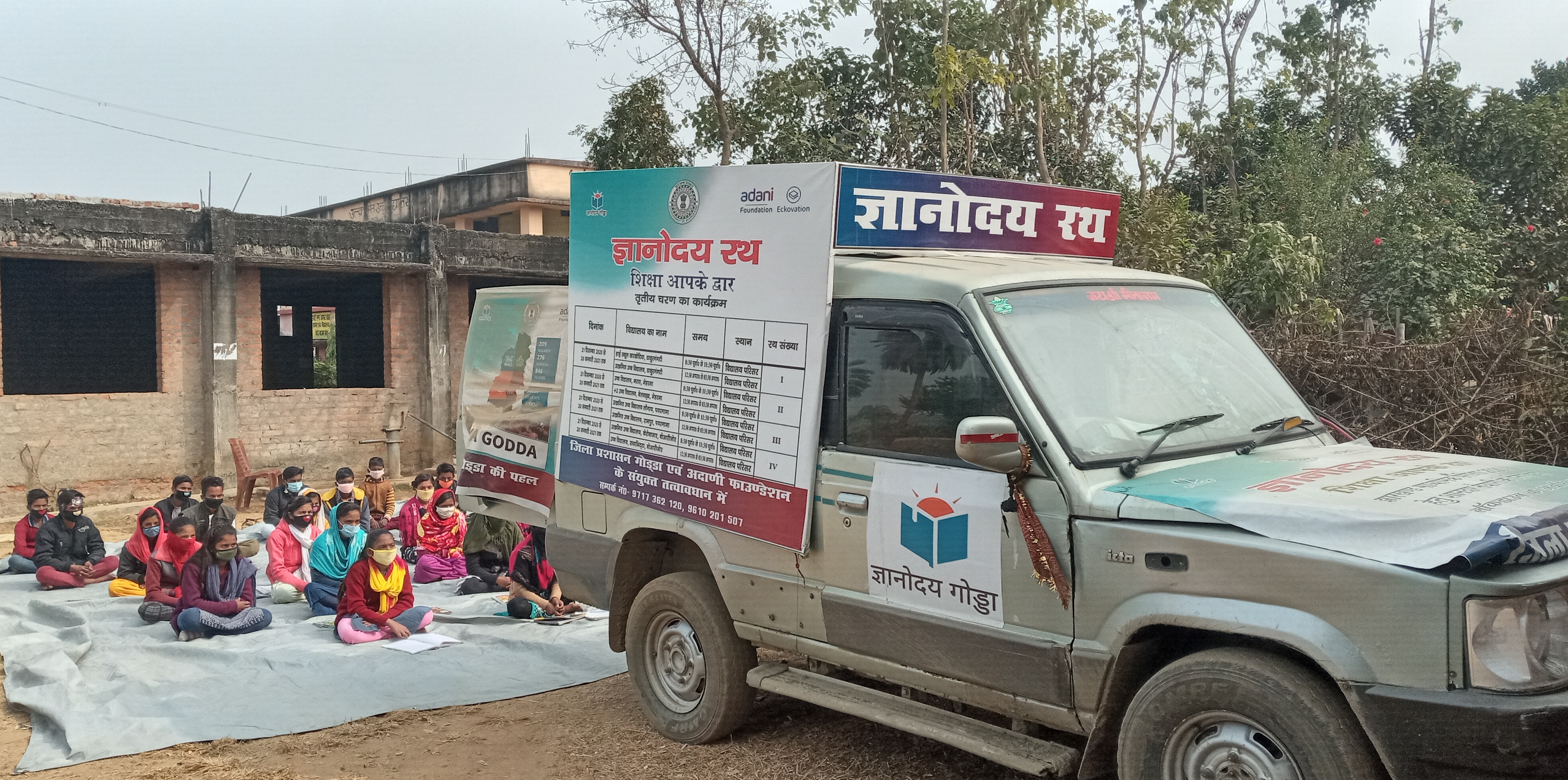 The schools run by Adani Foundation, such as the Adani Vidya Mandirs, were quick to make the switch to formal, systematic online learning modules. It was the students at the margins, such as the ones those are catered to by projects like Utthan and Gyanodaya, who were at the risk of being left out from the purview of quality education. The course that these two distinct educational initiatives have taken, illustrates that far beyond the digital urban-rural divide in India, a customized approach is the need of the hour to ensure that education continues for as many students as possible. One that is based on demographics like socio-economic conditions, the overall literacy rate, availability of resources etc.
To balance health risks associated with in-person learning against the educational needs of children, which may be better served when kids are in their physical schools, is a tricky path which educationists are trying to navigate. We are only scratching the surface in battling the short-term and long-term academic impacts of COVID-19. Through continuous performance assessment of our schools and projects in the coming months, by way of examining students' academic progress, we will persevere to recover and grow. We remain committed to the cause of sustainable development by fine tuning CSR initiatives of Adani Foundation.
Vasant Gadhavi,
Director, Adani Foundation
Subscribe to receive latest stories, media releases and insights on from this journey of inculcating self-reliance.