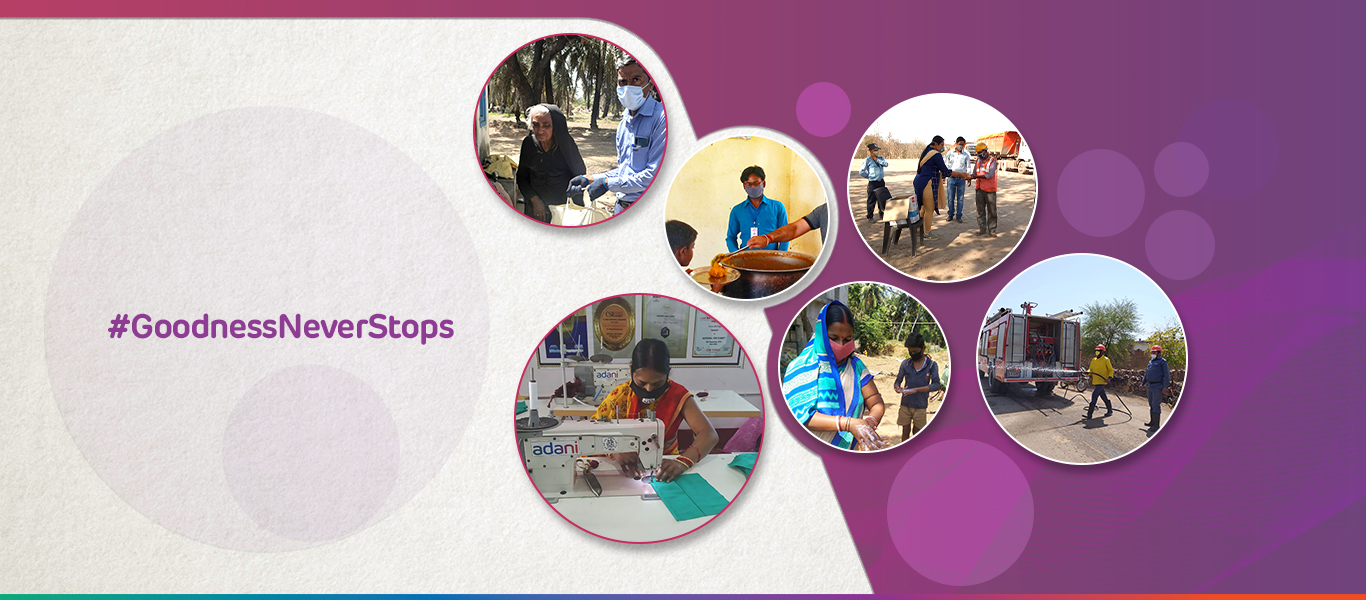 Last updated: 14th April 2020, 9.30 am
The web page will be populated with further details soon.
Stay tuned for further updates.
Anchoring comprehensive relief efforts to combat COVID-19
#GoodnessNeverStops
In line with the nation's action plan to battle the highly contagious pandemic, the Adani foundation has stepped up to guard the health and well-being of rural communities, provide relief material in town and cities, and contribute financial aid to central and state governments.
We are living in unprecedented times in the face of a global humanitarian crisis. The world is grappling with fear and uncertainties tied to the COVID-19 outbreak and its rampant spread. Supporting the heroes on the front line and safeguarding citizens' lives has become the prime agenda of governments at this turning point in world history.
As India is taking decisive steps to contain, test and treat COVID-19 in a proactive manner, while urging 1.3 billion citizens to conform to a new reality, Adani Foundation has stepped in to do its part. Rooted in the Gandhian philosophy of trusteeship and in keeping with its parent company Adani Group's vision of nation-building, the Adani Foundation is anchoring several COVID-19 related relief efforts. From providing monetary support to aligning our foot soldiers with the need of the hour on the grassroots – the foundation is committed, in every possible capacity, and in the spirit of solidarity to serve the people of India.
Donating financial aid of Rs. 114 Crores
The Adani Group and the Adani Foundation are responding to the need of scaling up efforts as the nation augments its capacity and machinery to battle the Coronavirus outbreak. On March 29, Mr. Gautam Adani, Chairman of the Adani Group, said that Adani Foundation, donated Rs. 100 crores to the PM's Citizen Assistance and Relief in Emergency Situations Fund (PM CARES Fund). Soon after, the Adani Parivar with a strength of 17000+ employees came together to collectively contribute Rs. 4 Cr. Dr. Priti G. Adani, chairperson of the Adani Foundation, decided that the foundation will match this amount. Hence, a total of Rs. 8 Cr was contributed towards COVID-19 relief projects in India.
Earlier on, Adani Foundation donated Rs. 5 Cr to Gujarat CM-Relief Fund and Rs. 1 Cr to Maharashtra CM-Relief Fund. Donations were also made to Kattupalli District Collector COVID-19 Fund and the Bhadrak District Administration. It also partnered with Iskcon Dwarka through a donation of Rs. 50 lakh, aiming to provide daily meals to 400,000 beneficiaries. Subsequently, Adani Power donated Rs. 1 crore (USD 131,849) to the Chief Ministers Relief Fund of Jharkhand.
In line with the Adani Foundation's vision to extend COVID19 relief aid across the country, on April 13, 2020, it contributed INR 2 Cr to the Andhra Pradesh CM-Relief Fund. Independent businesses also rose to the occasion as Adani Ports and Special Economic Zones Ltd. the ports and logistics business of the group contributed Rs. 5 Cr. to the Kerala CM Relief Fund.
| Financial Aid | INR | USD* |
| --- | --- | --- |
| PM CARES Fund | 100 Cr | 13.18 Mn |
| Gujarat CM Relief Fund | 5 Cr | 659, 249 |
| Kerala CM Relief Fund | 5 Cr | 653,956** |
| Andhra Pradesh CM Relief Fund | 2 Cr | 261,582** |
| Maharashtra CM Relief Fund | 1 Cr | 131,849 |
| Jharkhand CM Relief Fund | 1 Cr | 131,849 |
| Adani Employees Contributed INR 4 Cr, added by another INR 4 Cr by Adani Foundation for Covid Relief | 8 Cr | 1.05 Mn |
| Donation to NGOs | 0.5 Cr | 65,924 |
*Conversion rate INR to USD – Rs. 75.8432, date: 7th April 2020
**Conversion rate INR to USD – Rs. 76.4577, date: 9th April 2020
Sanitizing public places & spreading awareness
Adani Foundation is sanitising public spaces in many villages of India – 22 in Mundra (Gujarat), 6 in Hazira (Gujarat), 12 in Godda (Jharkhand), 7 in Kawai (Rajasthan) 17 in Raipur (Chhattisgarh) and 6 in Krishnapatnam, Tamil Nadu. In many areas it is helping the district administration in the sanitization efforts. Along with regular sanitization of nearby public vicinities in these villages, instilling hygiene habits is a crucial step towards safeguarding these communities against the coronavirus outbreak.
Prior to the lockdown in India, awareness sessions and drives were conducted across various locations. At Vizhinjam, Kerala, 18 awareness sessions were conducted for community people and students on the pandemic and its precautions in which 840 people participated. At Raigarh and Raipur in Chhattisgarh, banners were made to spread the message of prevention against COVID-19 at eight community places. At Dhamra two mobile vehicles were engaged for 15 days to spread the information on preventive measures on Coronavirus. The vehicles moved in 87 villages and its hamlets of eight Gram Panchayats. Keeping the practice of social distancing in mind, at Mundra, 'Awaz De' a voice message campaign was started to make the people of 61 villages aware on COVID-19. Those engaged as Sanginis in Project Fortune SuPoshan, are actively involved in spreading awareness about proper handwashing techniques in their communities.
Providing healthcare support & protective gear
Women's self-help groups aided by Adani's Skill Development Centres have produced more than 1.70 lakh masks for distribution across sites. Personal protection kits have been provided for the health workers and doctors at the SVP Hospital in Ahmedabad. Also, 100 ventilators are provided to the Ahmedabad Municipal Corporation followed with PPEs (Personal Protective Equipment) and N-95 Masks. On April 10, the Adani Foundation in line with its focus on enabling immediate help for on the ground COVID19 combat efforts contributed 10,000 Personal Protective Equipment (PPE) kits to the government of India.
GK General Hospital in Bhuj, the first ever hospital in India that is being run as a Public-Private-Partnership (PPP) endeavour between Government of Gujarat and Adani Foundation, is a designated coronavirus treatment centre in Kutch district. It also deployed a dedicated team of doctors and healthcare professional. This team of experts also created short-videos on preventive measures which were amplified through social media platforms to create awareness (Click here to watch). It is now equipped with additional ventilators and facilities are being amped up on a regular basis to deal with the urgency of the situation.
Fighting hunger with rations kits, food packets & community kitchens
As India grapples with a lockdown to arrest the spread of the COVID-19 pandemic, it is the poor and the daily wagers who are the most adversely affected. Adani Foundation is feeding this section of the society through community kitchens and canteens being run in various sites across the country where it is operational. More than 1 lakh packets of food and ration have been distributed at Mundra (Gujarat), Godda (Jharkhand), Kawai (Rajasthan), Dhamra (Odisha) and Vizhinjam (Kerala) every day. More than 20,000 labourers and people in the rural communities are given meals each day. Adani Foundation is also providing ration supplies to community kitchens that are running in full force to feed the communities.
These are some ways in which Adani Foundation's foot soldiers are ensuring that India's rural population is well-protected and well-fed in these trying times while hundreds from the Adani Group's workforce at ports, power plants, transmission sites, edible oil refineries, residential townships and city gas distribution businesses work seamlessly so that the lockdown does not impact the supply of essentials. The Adani Parivar is committed to fully supporting the government and citizens of India in the battle against this contagion.
Note: All the volunteers and staff members are provided with sanitised premises and social distancing measures are being implemented rigorously while discharging duties that are essential to help the communities.
Hear it from the experts
Experts from the Gujarat Adani Institute of Medical Sciences give insights on COVID19
Dr. Babulal Bamboria,
Professor & Head of Department, Department of General Medicine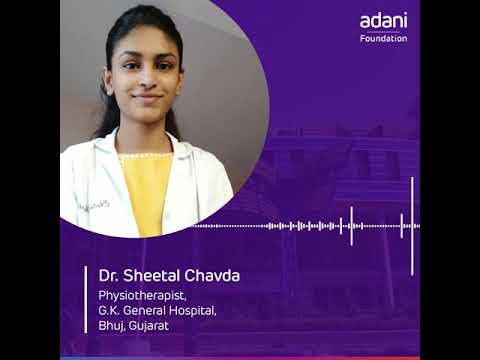 Dr. Sheetal Chavda,
Physiotherapist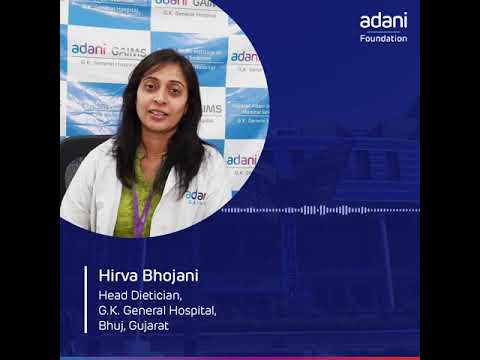 Hirva Bhojani,
Head- Dietician
Fight the fake
With too much information floating around make sure you access the most recent advisories form authorized bodies.