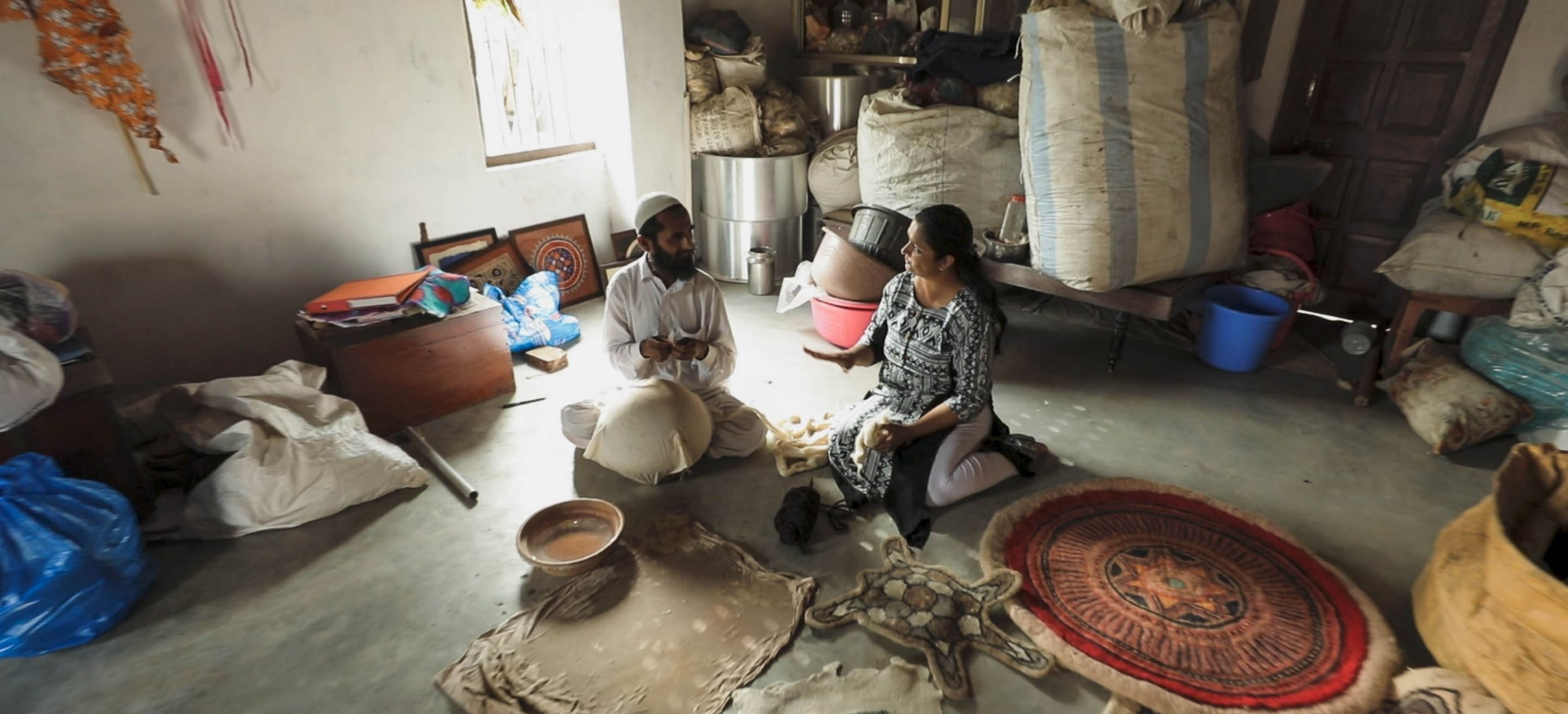 From sculptures and dance forms to paintings and textile art, India is known for its long and varied history of culturally rich art forms. One such art form, older than the art of spinning and weaving, is Namda Kala. Derived from the Sanskrit word Namata meaning woolen artifact, it is the art of making felted floor coverings and paddings, and then embroidering the pieces with hand-dyed threads.
The Namda artifacts are predominantly made of pure sheep wool. In the 1800s and 1900s, their demand was high across India, given their usage in the royal families. The kings and minsters were regular patrons of Namda, making it one the most recognizable art form that was handed down from one generation to the next. Majorly used as seating paddings on elephant and camel rides, these artifacts saw its peak and utmost glory during the dynasty era. With the government placing bulk orders and fairs still prevalent in the country, Namda Kala continued to enjoy its fair share of market waves till the late 1900s and even the early 2000s.
Gradually, the understanding of the art started to fade away and new art forms took over. This resulted in not only the Namda artisans switching to other art forms but in some cases even switching to other occupations. Despite this shift, a handful of artisans held on to their family legacy of Namda Kala. This is the story of one such adept artisan who hails from Mundra.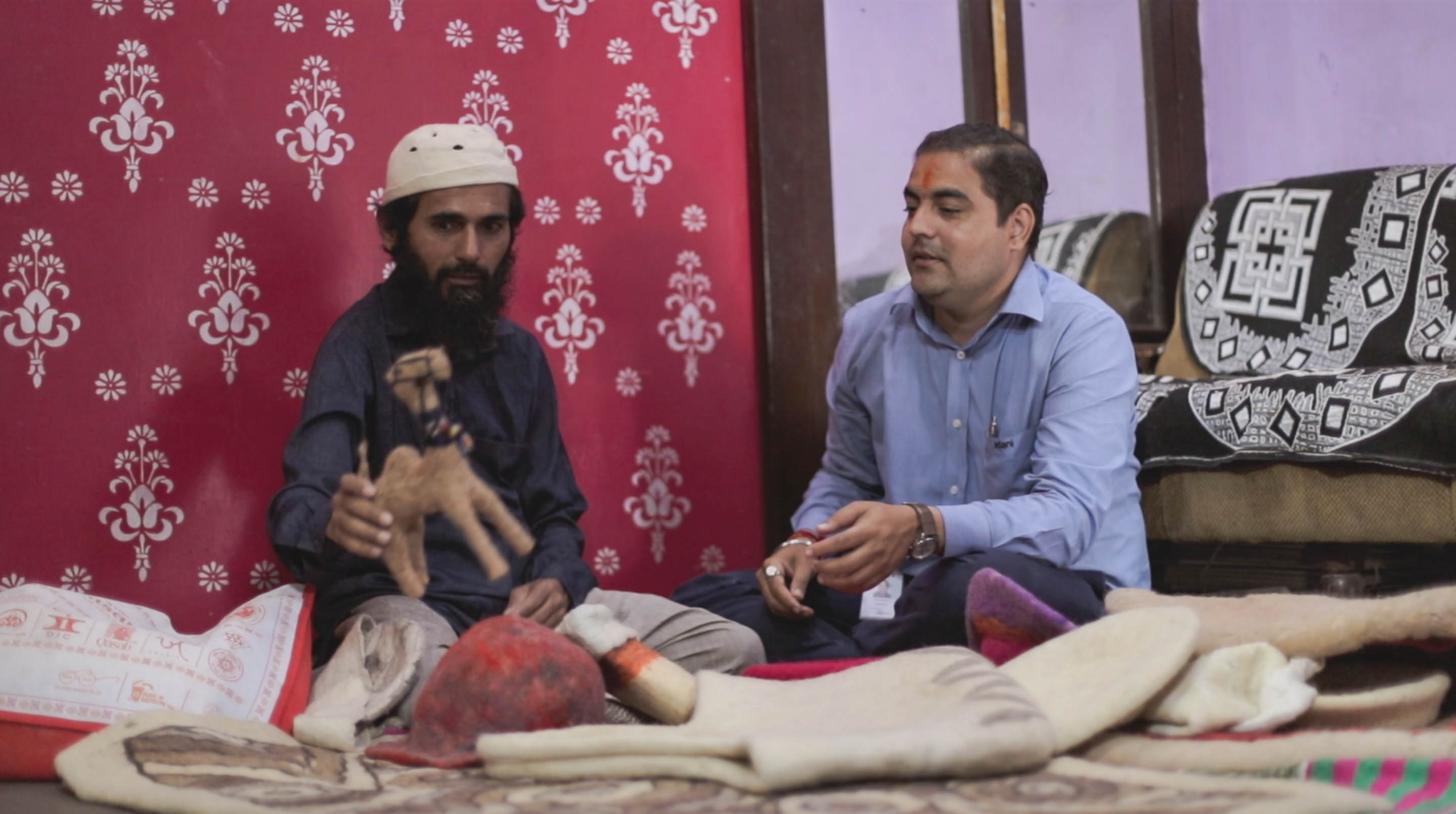 Karim Umar Mansuri is the only Namda artisan in Kutch (Gujarat) – a place that once was home to this art form. The families in this region are traditionally involved animal husbandry, owning large herds of livestock. Thus, the art of crafting Namda using sheep wool was handed down form fathers to sons. Rolling and felting sheep wool with his father as a child, Karim did not know that he would become the custodian of a specialty art.
However, in a quickly changing and modernizing world, looking after a family of 11 members doesn't come easy to an artisan. As the sole bread earner, Karim found it very difficult to practice an art form that was struggling to survive in a dwindling market. Unable to depend on Namda as a source of income, he underwent a huge debt and was forced to start looking for menial jobs. This led him to shift to carpentry and pursue Namda only as a passion project that kept his family's legacy alive. During this time, many organizations were keen to help revive Namda but none seemed promising enough for him to devote all his time to the art.

In 2017, Adani Foundation – the CSR arm of the Adani Group – came to know about the Namda Kala. Impressed by the intricacy of the art form the team reached out to Karim. After understanding how the artifacts are made, the Foundation decided to help sustain Namda. Later in that year, the Adani Group placed an order of 750 Namda camels, worth INR 5-5.5 lakhs. To complete this order and for Namda Kala to reach more people, Adani Foundation got 30-35 artisans onboard. In addition to this, the Foundation also supported Karim in converting his kutcha studio into pucca one where he personally trained the said artisans and together, they were able to complete the order. Soon after, he was approached by professors and students from renowned design schools like NID and NIFT.
Through Adani Foundation's relentless drive and Karim's passion, the story of Namda Kala has achieved international recognition. Today, he is living debt-free and is able to make ends meet. A closely-guarded family secret of Namda, which was about to disappear due to lack of opportunities, is now a source of
sustainable livelihood
. Karim feels fortunate to have met people who understand and appreciate the art form that has been in his family since the 1800s. "With the support of people who believe in you, anything is possible. I am happy that even in adverse situations I did not give up on the kala that has been in my family for generations."
Adani Foundation, through its CSR intervention, has been working to establish new linkages and secure the future of Namda in Kutch. Its efforts stem from the belief that the sustainable development of any community entails furthering its traditional arts and crafts, offering sustainable livelihood interventions that accord dignity of life and living to artisans as well as longevity to the art.
Subscribe to receive latest stories, media releases and insights on from this journey of inculcating self-reliance.