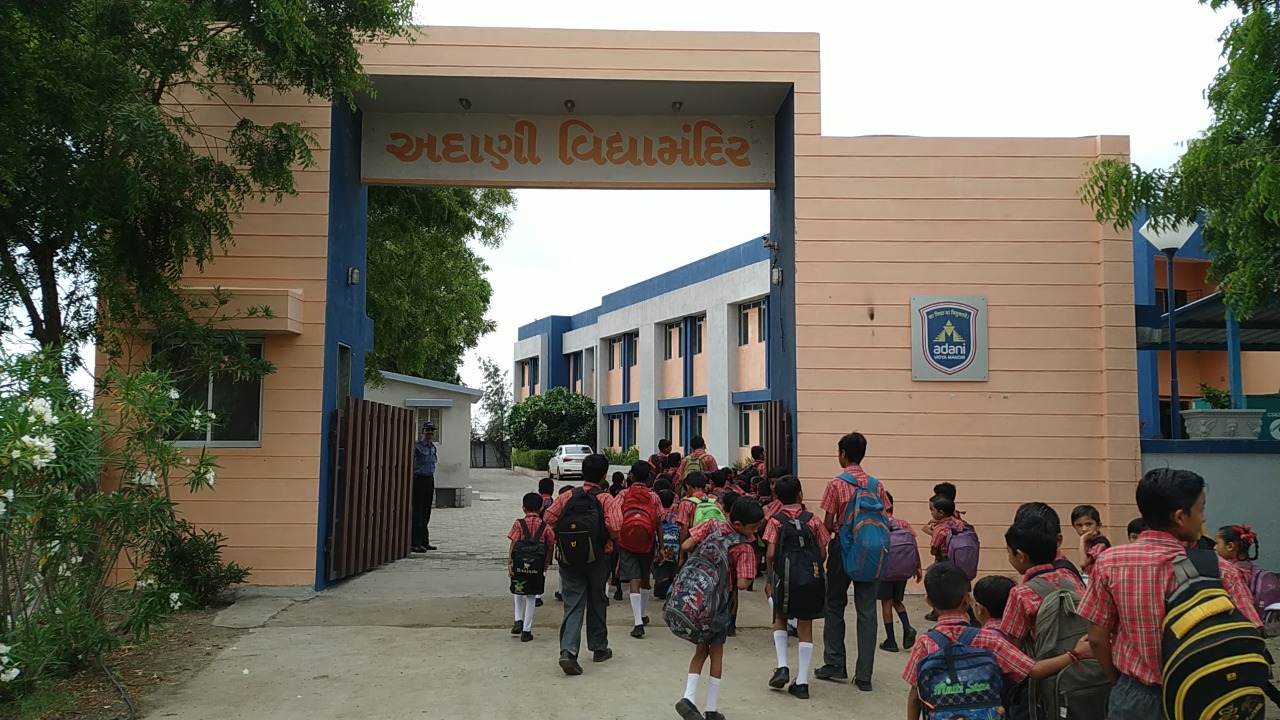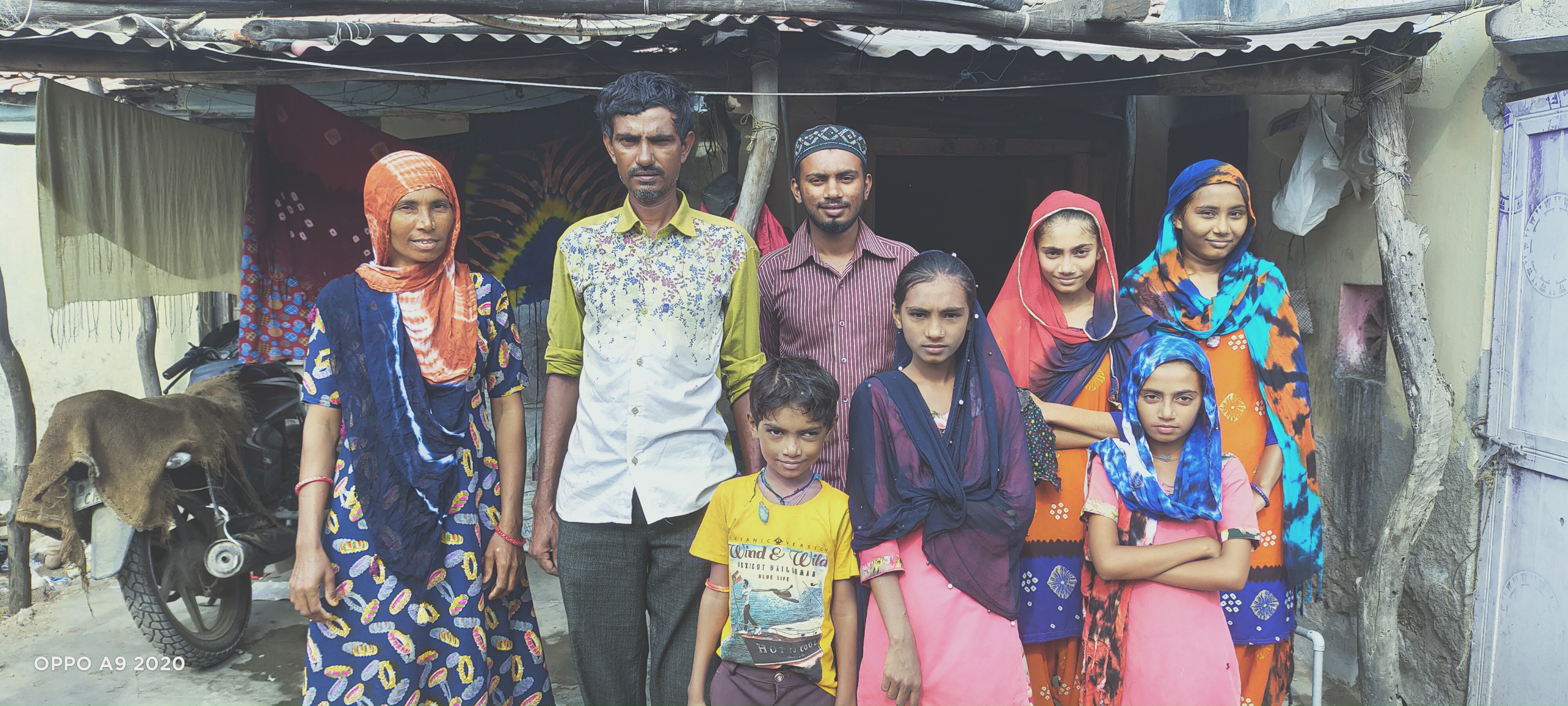 Osmangani Manjaliya with his family outside their home in Luni
Along the coastline of Mundra, Kutch (Gujarat), is Luni village, which is home to many fisherfolk families. Osmangani Manjaliya, a Pagadiya fisherman, belongs to one such family. It's the 10th day of the lunar cycle – Osmangani wakes up at 3 AM and steps out of his kuccha settlement. He cycles for about 8 kms to reach the coastline and then walks for another 7-8 kms – foot deep, knee-deep and slowly waist-deep in water to collect his catch. It is 6 AM by the time he returns home to get some rest. Now, his wife Halimabai sorts the catch, while their six children – four daughters and two sons – are only just waking up.
Pagadiyas (derived from pag meaning foot in Gujarati) are fisherfolk who practice foot fishing. They place their fishing nets on sticks in the intertidal area during low tide. As the water swells and fills the coastline during high tide, it covers their nets, bringing fish in this area to feed. When the water recedes during low tide, the fish get caught in the net. Pagadiyas use some portion of the catch for their consumption and sell the rest from their homes or hawk on foot. They have no choice but to undergo hardships to practice this form of non-mechanized fishing as there aren't many avenues for them to step out of the family occupation.
However, Osmangani's eldest child – his son Mamadsakil Manjaliya – got a window of opportunity. He was studying at the Prathmik Shala until class 6, as no fees had to be paid. He was to join his father after that as that's the right age to enter the family occupation. It was around this time, in 2014, that Adani Foundation's team was visiting fisherfolk settlements to offer schooling at Adani Vidya Mandir, Bhadreshwar (AVMB). AVMB caters to children from socio-economically weaker sections of the society – especially the fisherfolk – in and around the village of Bhadreshwar. It provides cost-free education, books, uniforms, and nutritious meals to all students. This is how Mamadsakil enrolled in AVMB in class 7 and became a first-generation learner.
First-generation learners face a multitude of academic challenges – related to course content, attendance, assessment, participation in co-curricular activities etc. They may also face many psychological, socio-economic and cultural challenges. The parents of these children, bereft of any schooling experience, are at a disadvantage when it comes to supporting their children. In such a situation, sensitive handholding of the child and counselling for the parents can make a huge difference.
As the AVMB school management and teachers found out more about the Manjaliya family and the dire situation at the household, they extended all possible support to them. Mamadsakil was a bright but a quiet student who was groomed over the years. The first milestone for him was securing the first position at the district level running competition at Khel Maha Kumbh. The next one was securing the second position by scoring 77% in the school's class 10 result in the 2017-18 exam – this was only the second batch of class 10 to pass out of AVMB. He was not confident about pursuing further studies and was considering joining his father to help support his family. AVMB's Principal Lally Sukumaran counselled and motivated him to trust his capabilities and pursue science. She gifted him an Android phone to explore online admissions and opportunities in digital learning.
Mamdsakil Manjaliya with AVMB Principal Lally Sukumaran
It was no surprise then, that he secured admission to pursue a diploma in Mechanical Engineering in Government Polytechnic College, Bhuj; Adani Foundation sponsored his fees. In July 2021, Mamadsakil became the first engineer in Luni's fisherfolk community. Another big moment of pride came in the Manjaliya family when Mamadsakil received an offer of employment with the Adani Ports and Special Economic Zone (APSEZ) Ltd in Mundra.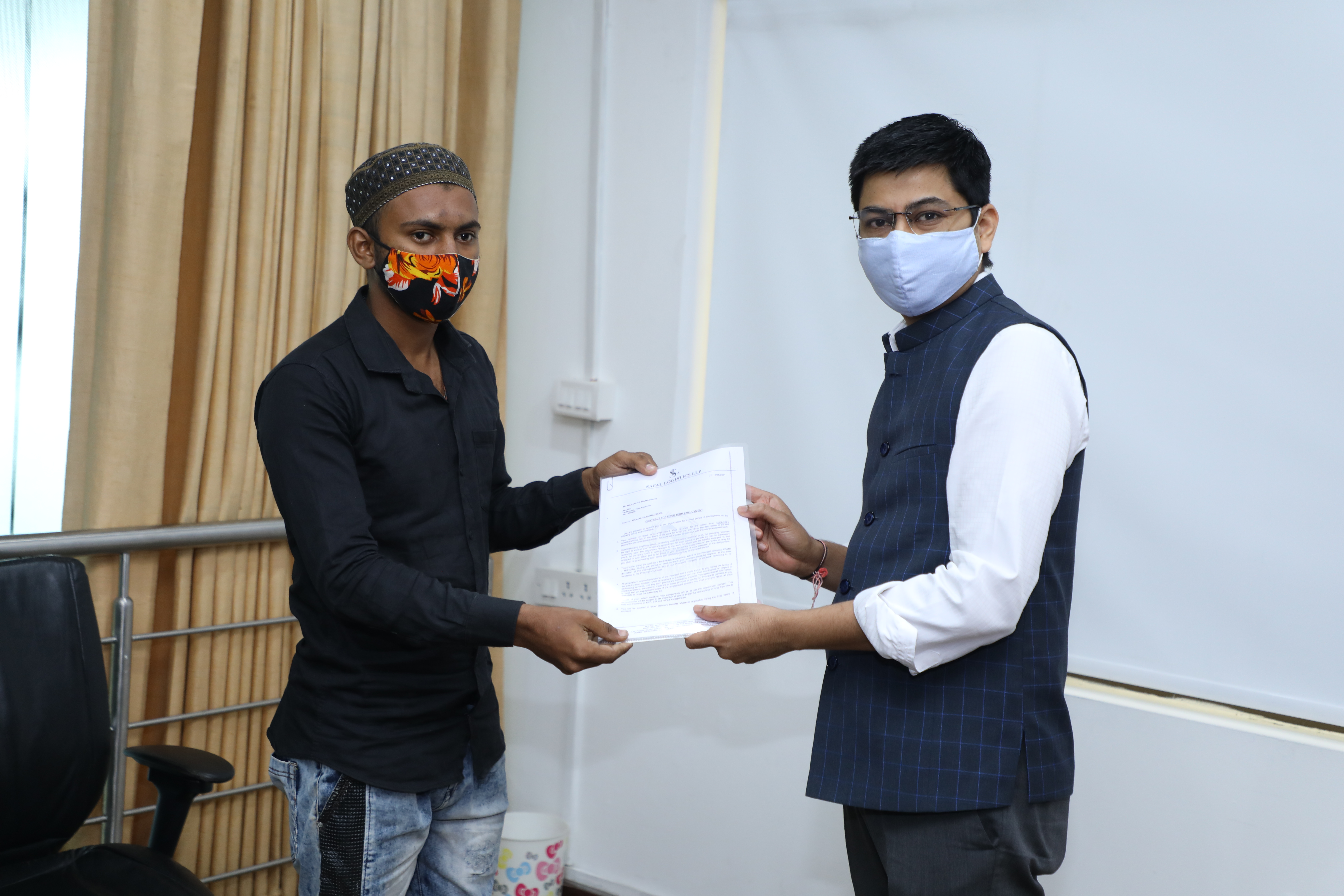 Mamadsakil receiving his offer letter from Rakshit Shah, Executive Director, APSEZ Ltd.
Mamadsakil's journey underlines the importance of educational opportunities in rural communities to reduce poverty and inequality. Many children from remote villages are first-generation learners like Mamadsakil. The success of students like him is a real victory for AVMB – a school that is working tirelessly to facilitate quality education for the fisherfolk community, in and around Bhadreshwar. Now, Mamadsakil's younger brother and a sister are also studying in AVMB – the school has a policy of admitting two children per fisherfolk family. There is a hope for a better future for the Manjaliya family, and many more such families wherein underserved children receive their 'Right to Education'.
Adani Foundation, the Corporate Social Responsibility (CSR) arm of the Adani Group is steadfast in its mission to promote education for sustainable development.
Subscribe to receive latest stories, media releases and insights on from this journey of inculcating self-reliance.