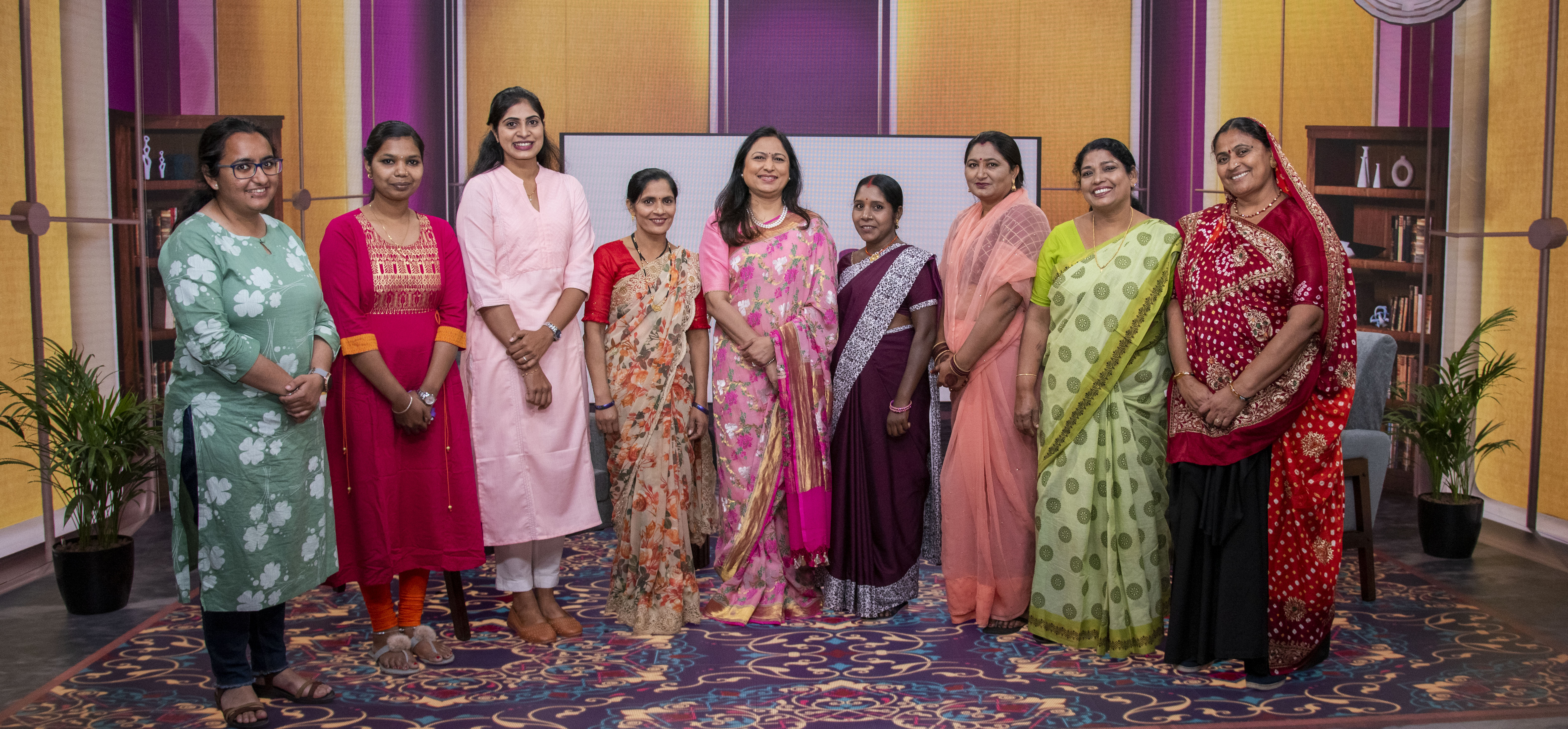 The theme for International Women's Day 2022 is "gender equality today for a sustainable tomorrow". Now we can no longer celebrate the exceptions – gender equality must be the norm if we want to build a future that is prosperous for the planet as well as people. Socially and economically marginalized sections of society are on select focus of Adani Foundation's CSR efforts. Hence, women constitute a major target set around whom the Foundation has developed unique programs.
On International Women's Day 2022, four such impact makers met with the Foundation's chairperson Dr. Priti G. Adani. Associated with various livelihood initiatives anchored by Adani Foundation, these women are learning, earning, and thriving. Take for instance the journey of Pragnaba Bhati who silently broke the shackles of the society. Hailing from Mota Kapaya village near Mundra, she was forced to take upon all responsibilities when her husband met with an accident and lost senses in both of his legs.
In times when stepping out of the house was looked down upon, she with the help of Adani Foundation, created the 'Shraddha Saheli Swasthya Juth', a Self-Help Group (SHG) along with 10 other women. She began making chapatis for the laborers at the Adani Port, and later went on to make meals for as many as 300 people every day. Her group later attained an FSSAI certification and started taking orders and winning tenders for food catering to external organizations as well. Pragnaba's story has empowered 10 women who work in her group and has paved way for many such women towards empowerment and self-reliance.
Rekha Bhimraj Bisen from Berdipur village near Tiroda (Maharashtra), was also faced with an incredible challenge after she lost her husband to an accident. She to shoulder the responsibility of her children and the household – initially, she became a Suposhan Sangini with Adani Foundation's Fortune Suposhan Programme in Tiroda. She worked hard for years spreading awareness about nutrition and when the programme ended in her region, she joined 'Anuradha', a milk collection centre run by Tiroda Farmer-Producer Company. Today, she does everything right from cleaning and maintenance of equipment and tanks, measuring milk, testing it for fat & SNF, milk collection to rendering computerized receipts to farmers. Her efforts at 'Anuradha' not only makes a difference in her life but is also helping farmers get optimal value for milk. Rekha tai has taken 'Anuradha' to newer heights.




Another true embodiment of dedication and hard work is Veena Devangan. Belonging to a poor household in Parsa village, Sarguja (Chhattisgarh), Veena wasn't allowed to opt for higher studies. After being married off at an early age, she thought every door of opportunity was closed, but that changed when she joined MUBBS (Mahila Udyami Bahudeshiya Sahakari Samiti), a women cooperative comprising 250 women. Veena's dedication and passion paid off when she was appointed the head of MUBBS' Spice Grinding and Packaging Unit. Today, Veena leads a team of 4 women in her unit and earns enough to save and give her children the best of healthcare and education. After being independent, she started doing what she always wanted to do – studying!

TK Suraja is another such example of empowerment who is now leading multiple initiatives. From being a zero-income individual to contributing equally to the family income, TK Suraja holds several titles and positions. Belonging to a small household in Vizhinjam, Kerala, Suraja started a hi-tech cleaning group called 'Clean 4 U' that provides housekeeping services to hotels, resorts, hospitals, offices, and homes. She's the president of Clean 4 U which comprises 25 women, and is also leading Vizmart, under which she heads 17 livelihood groups that directly benefit 83 community women. Suraja is also the Chairperson of the Area Development Society and the Coordinator for Gender Help Desk, 'Snehita'. Suraja defied all odds and proved that every woman can achieve great things if they put their heart and soul to it.

As these women grow from strength to strength in their respective areas of work, their family and community members are also benefitting. that women empowerment and gender equality is the way forward towards sustainable development.
Subscribe to receive latest stories, media releases and insights on from this journey of inculcating self-reliance.