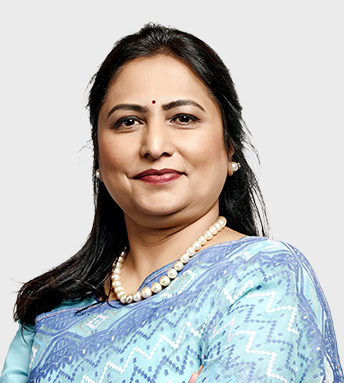 Dr. Priti G. Adani
Chairperson
"What counts in life is not the mere fact that we have lived. It is what difference we have made to the lives of others." - Nelson Mandela
How simply these words by Mr. Mandela sum up our vast journey at the Adani Foundation. But what holds larger significance for me is the way the world has changed.
India's robust macroeconomic fundamentals and growth outlook has catapult us to commanding position. We could not just deliver on our commitments to the United Nation's 2030 Agenda for Sustainable Development but inspire other emerging economies.
Amidst the global change and a decisive shift in government focus, our role at the Adani Foundation has also matured. When we started in 1996, our primary goal was to reach out to the remotest corners of the country, and understand the gaps diving urban and rural India. After battling scepticism and stereotypes initially, we were able to clearly define areas that left nearly two-thirds of the population in the world's largest democracy behind. In that context our journey of 'Leave No One Behind' started much earlier than it became the UNDP pledge for 2030.
Working across the broad pillars of Education, Public Health, Rural Infrastructure Development and Sustainable Livelihood, our community outreach programmes have been aligned to India's vision of inclusive growth. When I look back our footprints have grown manifolds bringing defining change in the lives of millions but the most compelling impact is the manner in which it has touched lives.
Human development goals set through a scientific approach have infused self-sustained ecosystems with the potential to flourish on their own and inspire new groups to learn and replicate. We strategically chose women to benefit and drive this journey. I personally believe that women are the most critical stakeholders for the social development agenda of any state because when women are empowered it strengthens the root of a community.
While our efforts to strengthen communities at the grassroots level will continue, visionary thinking would drive the next phase of development. Industry 4.0, in an inevitable global reality and focussed goals on skilling and re-skilling is imperative. It also presents a huge opportunity for India to leverage its demographic dividends.
Adani Foundation could not have come this far without its partners. From state and central governments to our project implementation partners and most essentially our community volunteers, believed and stood by our vision of giving back to the society.
We thank them all and pledge to make a difference by infusing goodness in everything that we do.